Samantha Breault, Coordinator & Head Cheerleading Coach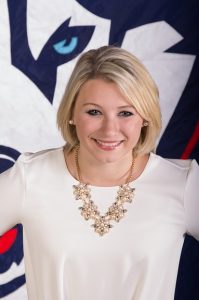 Samantha is originally from Niskayuna, NY where she became a cheerleader at the age of six.  Samantha trained and competed with Cheer Intensity All-Stars from 2006-2011.  Samantha attended Syracuse University and received a Bachelor's Degree in Sociology and Political Science.  She is a 4-year veteran of the Syracuse Spirit Program and was selected as one of the captains for the 2014-2015 season.  Samantha cheered at football and basketball games throughout her time at Syracuse as well as competed at UCA College Nationals in 2012, 2013, 2014, and 2015.    Since 2011, Samantha has been a part of the National Cheerleaders Association staff.  She travels to instruct camps throughout the year ranging from youth to college level.  As of January 2015, Samantha was chosen to become a Head Instructor for the company and received the honor of Top Rookie Head Instructor for that summer.  Samantha has been a part of the UConn SPT Staff since August 2015.
Ashley Marquardt, Dance Coach 
Ashley Marquardt is a Connecticut native and starting her training at the age of 4 from All The Right Moves Dance Center. During her high school years, she competed with ECB's Street Elite All-Star Hip Hop Team. Ashley graduated from UConn with a Bachelor of Science in Biology. She was a four-year member and co-captain of UConn Dance Team. Ashley is an instructor for the National Dance Alliance (NDA) and travels around the country to teach technique and routines to high school and college dance teams. She choreographed material for the 2017 & 2018 NDA Curriculum. She also has experience with professional cheerleading and dance team organizations such as the NLL New England Black Wolves and was a four-year member of the WNBA CT Sun Solar Power Dance Team. She is a co-founding an all-star hiphop program in Connecticut which competed in the International Open Hip Hop Division at USASF Dance Worlds. Ashley is excited to be back as a alumni and help keep the tradition and spirit alive!
Brittany Lawson, Assistant Cheerleading Coach