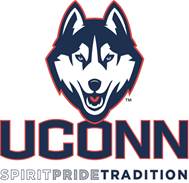 REGISTRATION IS NOW CLOSED-CLINIC AT MAX CAPACITY.
Saturday, November 11th, 2023- Cheer Only (Limited in quantity T-shirts available for $10 day of) 
Location: Guyer Gymnasium, Hugh S. Greer Fieldhouse,  University of Connecticut, Storrs
CHEER CLINIC SCHEDULE (subject to change)
Check-In/Pictures with Jonathan: 9:30 AM - 10:00 AM
Clinic: 10:00 AM - 1:30 PM
Parent/Family/Friend Showcase: 1:00 PM
Snack (not provided): 11:45 AM - 12:15 PM
Ages 6 to 14 years old
Participant Cost ($45) Includes: A Cheer  Clinic, a photo op with Jonathan The Husky, & t-shirt, Same day registrations will not be accepted and no refunds will be given for enrolled participants. Limited in quantity will be available for $10 during registration.
Attire/What To Pack: Participants should wear navy and white comfortable athletic clothing and sneakers. UConn gear is always a plus! No jewelry is allowed (including earrings). Please pack water and snacks! (Refrigeration is not available)
Location Information: The clinic will be held on the UConn Storrs Campus at Guyer Gym located in the Hugh S. Greer Fieldhouse. Parking is available in both the North and South Garages on campus. Please leave enough time to park and arrive at check in on time. A Campus Map can be located here.
Day-of Information: Doors will open for check-in at 9:30 AM.  We do ask that parents do not sit in the gym during the clinic. Gym doors will reopen for parent, family & friends performance at approximately 12:45 pm, staff or SPT athletes will escort Parents, family and Friends inside at the beginning of the performance. After the performance, their authorized pick up person can pick them up there. Individuals authorized to pick up their child/children will need to have an ID that matches the name on the list. Please email spirit@uconn.edu with any questions.
Pre-Registration/Payment Information: Registration will open on Monday  September 11th. Payments due at the time of registration.
NOTE: Space is limited. If our registration capacity is met, pre-registration material – including credit card refunds – will be returned to pre-registrants who are not enrolled in the clinic.
Once payment is received, you will receive an update of your registration status via email.
Registration Link can be found HERE .